1. Color me surprised that the OSU-PSU game was close. After I saw ND smack Penn State around, I figured OSU would do the same thing. OSU's remaining opponents better hope for rain/snow when they play the Buckeyes. That is the only thing that can neutralize their speed.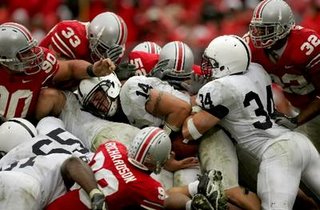 2. So OSU's brand new defense (have you heard? 9 new starters!) hasn't let up a rushing TD yet, huh? That is pretty neat.
3. The Iowa game scares the shit out of me. Ohio State hasn't exactly played well at night over the years (Wisconsin, Northwestern, Texas '05, Penn State...). Plus, Iowa
is
pretty good.
4. Drew Tate will be the first really experienced quarterback this team has faced all year. I'm not overly worried, but it's something to think about.
5. I don't think OSU's defense is getting the credit they deserve. They given up 12, 7, 7, and 6 points in their games so far (and that first 7 should've been 3).
6. The ABC guys talked about how the Penn State game was closer than the final score looked and that Ohio State didn't look great. Really? I can only speak for myself here, but I was never worried about Penn State scoring a TD. Besides that end of half drive (which had a pass interference and some penalties if I'm not mistaken), when did Penn State remotely look like they had a chance scoring?
7. And credit OSU's defense for putting Penn State in that passing situation at the end of the game. People talked like it was no big deal that those interceptions occured. OSU put PSU in a position to have to throw the ball and they took advantage.
8. Troy Smith didn't have guady numbers, but he sure did have a
'wow' play
.
9. Jenkins spiked the ball before he got to the endzone. Heh, that TD shouldn't have counted.
10. If I hear one more person call that Notre Dame-Michigan State game an
'instant classic'
, my head will explode. Seriously, what about that game was classic? Both teams played like absolute shit, just at different points in the game.
11. Michigan State choked. End of story.
12. Sure, OSU didn't exactly dominate Penn State (offensively that is, the defense was lock down), but at least they were playing a ranked team. Auburn played Buffalo, USC played Arizona, West Virginia played freaking
East Carolina
, and Florida pounded Kentucky. People are impressed by this? Oh yeah, Texas played Rice. Well done.
13. I know I should want Michigan to be undefeated when they show up at OSU. But I can't help rooting against them. It's like when the Steelers were in the Super Bowl, people would tell me "Gotta root for the AFC, man" Really? Do I?
14. The Bengals look really, really good.
15. If I see that God damn NFL Network Replay commerical again... "But you missed 85 and there was nothing you could do" SHUTUPSHUTUPSHUTUPSHUTUPSHUTUPSHUTUP!
16. Chad Johnson called
the hit
by Russell clean and isn't upset about it:
"I haven't been hit since I've been in the NFL, so that's my one," he told reporters on Monday. "It was a good hit. He has a great story for his grandkids.

"As a defensive back or a safety with that opportunity to hit the person who talks all the trash, I think I would have done the same thing."
17. I was with
Vinny
on this. I thought the Browns had no shot at all to win yesterday. I thought Frye was going to get killed. Well...
18. Frye was sacked 7 times yesterday 7! And he was knocked down another 19. That's ri-God-damn-diculous.
19. Oh yeah, he also threw for 298.
20. The Browns finally gave up on running the ball. They just flat out stopped trying. Frye was throwing the whole game and ya know what? They looked good doing it.
21. Even with that interception at the end, I think Frye has the respect of every man in that
locker room
.
"This is the most physical division there is. You need a tough quarterback like Charlie," Winslow said.

"It takes a man to play quarterback in the NFL, a guy who knows he's going to get hit. I take my hat off to him. I myself could not do that job," Edwards said.

Browns safety Brian Russell, the man who knocked Bengals receiver Chad Johnson into Never-Never Land a week ago, said "That's a tough guy there. As a defensive player, you have to respect that."
22. Much like Tim Couch, I haven't heard Frye bitch about his protection at all.
He's getting mauled
out there. I can't even imagine what a pocket passer would look like under center.
23. Speaking of that INT, I am totally with
Tom Reed on this
, at least they were playing aggressive.
Edwards says
it was the right call and that if Frye had one more second to throw, it's a touchdown and the game is over (I think he's right).
24. For a brief second (2nd quarter and that last drive before the INT) it looked like The Future. Frye was hitting his stars and Winslow and Edwards were making plays.
25. Do you realize this is the 3rd game in a row where Frye has connected with Edwards deep? Sure the first game there was holding call, negating the play, but still.
26. Hey Ted Washington, Willie McGinist, nice of you to join the rest of the defense this week. Speaking of the defense, it looks like Kamerion Wimbley and D'Qwell Jackson are going to be playing here for awhile.
27. Roger Brown didn't really write anything inflammatory on
Sunday
. I was actually kind of shocked. But don't worry, on
Monday
he quoted John Kruk's reason why the Indians are a disapointment:
ESPN baseball studio analyst John Kruk recently declared the Indians were the majors' most-disappointing team this season - and made a good point in pointing to catcher Victor Martinez as a major culprit. Kruk said Martinez's inability to throw out base stealers caused the Indians to lose numerous opportunities to end innings with double-play grounders - and greatly affected the psyche of the team's pitching staff. It was insightful, thought-provoking stuff - and only confirmed why Kruk ranks among the best baseball analysts.
Now, I kind of find it hard to believe that Victor's throwing arm is a major reason the Indians under-achieved this year. See, I always figured it was the fact that early in the season, no starter could get past 5 innings (*cough* CliffLeePaulByrdJasonJohnson *cough*. I also thought the bullpen blowing late inning leads was the major culprit. Guess not. Damn you Martinez, if only you could throw out all the baserunners the pitching staff lets on! (Also, WTF, Victor wasn't exactly Pudge last season and they won 93 games, now he's slightly worse and that's the reason they tanked? Really? Thought provoking?)

28. Did anyone realize Grady Sizemore
hit 2 home runs yesterday
and that one of them was an inside the park? I doubt he'll be the leadoff hitter next year, look at his stats: 52 doubles, 11 triples, 27 HR and 74 RBI. He leads the league in extra base hits with 90.
29. Rumor has it that the second episode of Studio 60 on the Sunset Strip is
better than the pilot
. And I've watched the pilot 3 times thus far (the boys over at
Free Darko
loved it as well). Watch this show!
30. Some quick hit music thoughts:
a) I'm really digging
Time without Consequence
by Alexi Murdoch (apparently he had a song on The O.C., I wouldn't exactly know). He's kind of a
mix between Nick Drake and Jack Johnson. And if you don't know who
Nick Drake
is, shame on you.
b) Elton John's new album,
The Captain & The Kid
, is billed as sequel to his 70's tour de force
Captain Fantastic and the Brown Dirt Cowboy
. The Captain & The Kid isn't a bad album by any means, it's very pleasant if a bit boring. It doesn't hold a candle (in the wind. HA!) to its predecessor
Captain Fantastic and the Brown Dirt Cowboy
(
my review
).
c) I enjoyed The Frays'
How to Save a Life
much more than I thought I would.
d) I've just really discovered The Mars Volta and My Morning Jacket.
Frances the Mute
is just nuts (in a good way) and
Z
is much trippy-er than I thought (I was expecting much more annoying emo-type).